This past Sunday, The Contemporary Jewish Museum hosted a Zine Fest to compliment their current exhibition, Show Me as I Want to Be Seen, a show which examines the empowered representation of fluid and complex identity. Beginning with the work of French Jewish artist Claude Cahun and her lover and collaborator Marcel Moore, the exhibition encompasses numerous contemporary artists who "address notions of the opaque, constructed, and shifting self" (from thecjm.org).
During the Zine Fest, visitors were encouraged to create collages using different cut-outs of paper, including makeready donated by Painted Tongue Studios!
During the workshop, some attendees had questions about the makeready and the printing process, and we promised to answer them here!
What is makeready?
The makeready is a byproduct of the letterpress printing process. When we print our greeting cards, each layer must be matched to the one before it, making a tightly registered, cohesive image; this set-up process involves printing on a piece of paper, making adjustments, printing again, adjusting again, until the layer is in the right place. The set-up sheets are called makeready. After setup, the printing process requires more makeready as fine control is maintained over the press run. We reuse these sheets, printing one design over the top of another, plate by plate, color by color. As we work, we see unique (and random) compositions emerge.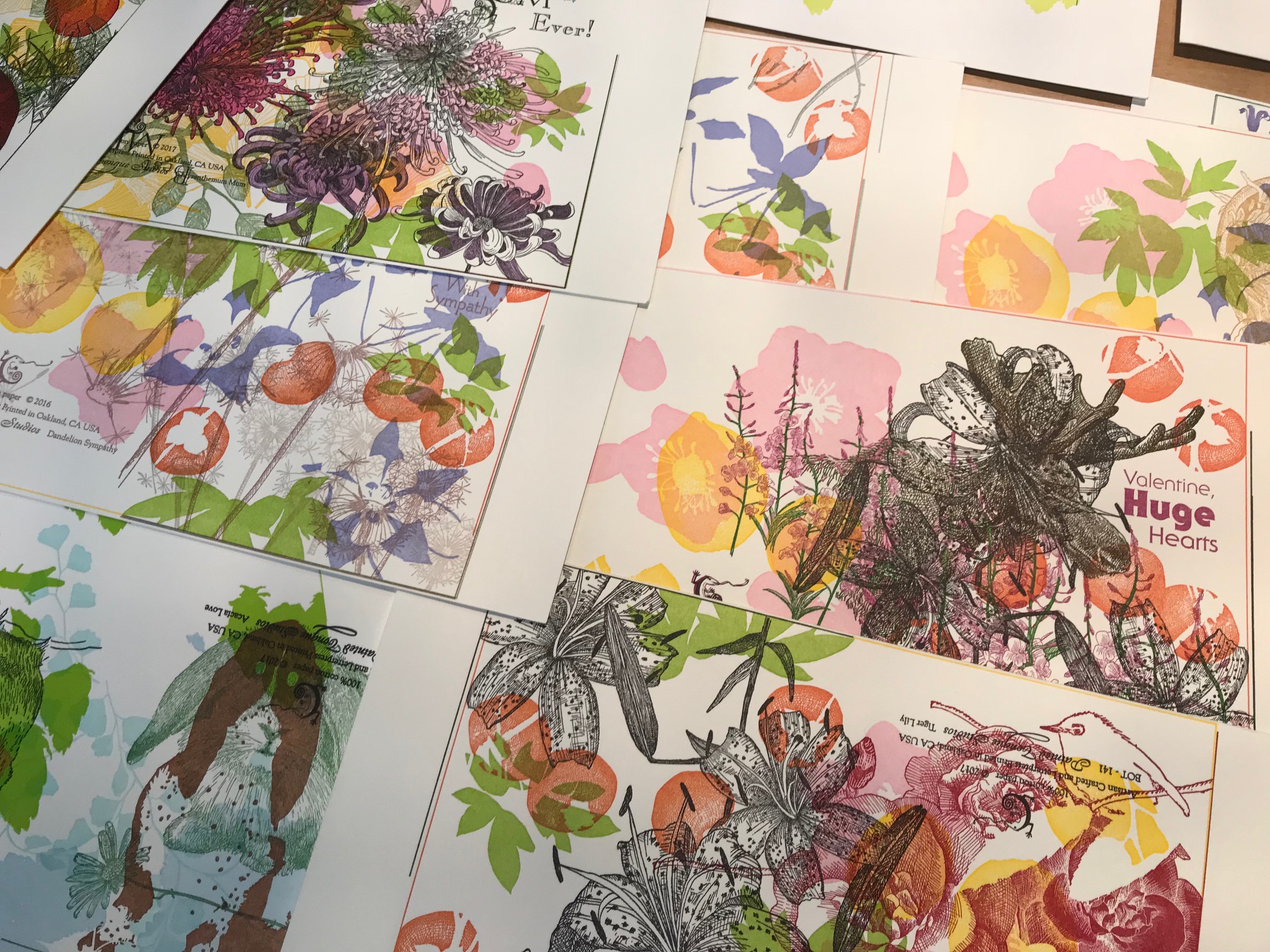 What kind of press do we print the greeting cards on?
We print all our cards on a Heidelberg windmill press, a mechanized platen press; called "windmill" because of the two gripper bars that rotate in a windmill fashion, grabbing and depositing each sheet of paper as it is printed.
How are the plates we print from made?
The polymer plates we print from are made from a plastic, light-sensitive material; our card designs are first printed onto an opaque film negative, leaving the image clear and the space dark. The image is then exposed onto the plate using strong UV light. Afterwards, the plate is rinsed, and the image remains while the rest of the plate washes away.